Imported

Tie closure

✨Fine Workmanship:This rhinestone belt is made of high-quality artificial leather, bling rhinestones and strong rivets, with pearl edging, exquisite and beautiful. Durable and wear-resistant, not easy to be damaged and the large rhinestones are sticky repeatedly, not easy to fall off. The fashion western cowgirl belt can hold your pants up very well, suitable for your most outfits. Absolute value for money.

✨Eye-catching Bling:This western cowgirl leather belt is full of shiny rhinestones, which are very dazzling and eye-catching. We have also specially lengthened the bedding area of rhinestones, so that when you tie the belt, will not reveal the position no rhinestones, which improves the delicateness of the whole belt. Wearing it can add more fashion and charm to you.

✨Flexible Design:There is a screwdriver that comes with packages. You can use it to open and remove the buckle easily, then customize the buckle with your like. This unique design increases the flexibility and variety of this rhinestones belt. With it, you are the focus of the crowd and it will make you more confident.

✨Can be used on many occasions:Our rhinestone belts are suitable for both men and women. This beautiful diamond belt can match with jeans, pants, dresses, skirts and other clothes. Let you spend a share of money and get many uses. It is suitable for parties, picnics, villages, festivals and daily life on all kinds of occasions.

✨Exquisite Packaging:The fashion rhinestone belt is packaged in a neutral box, low-profile and luxurious. There is no logo on the box,you can also use it to wrap other gifts for others. Let this fashion rhinestones belt add sparkling embellishment to you in western themed barbecue, party, club, country music concert or any other occasions, get many compliments from your friends.
New Fashion Rhinestone Belt for Men and Women
This rhinestone belt is definitely the trend of the future, and you can see many fashionistas use it as the finishing touch to their waist.
Sparkling rhinestones, strong rivets and prohibited pearl edging make up this eye-catching bling rhinestone belt.
It makes people unable to move their eyes at a glance.
This fashion rhinestone belt can easily make you stand out from the crowd and it's absolute value for money.
It's suitable for both men and women. A must-see for those who like this western style, really perfect for cowgirls and cowboys.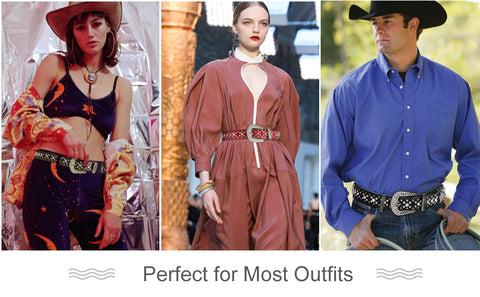 Rhinestone Belt Perfect for Most Outfits
The fashion western cowgirl belt can hold your pants up very well, suitable for your most outfits.
Whether it is daily wear or a specific occasion, this bling rhinestone belt can help you become more charming and confident.
Fits well, looks great, awesome pay will meet all your needs.
We are committed to giving customers the best purchase experience, take it home, you will find that this will be the most correct choice you have ever made.