JASGOOD 4 Pack Invisible Women Stretch Belt No Show Elastic Web Strap Belt with Flat Buckle for Jeans Pants Dresses
SKU:
JA-123-black+white+blue+coffee(same color buckle)-016
🌷Perfect Gift:The warmest and most stylish gift to your mother, friends and family on Mother's Day,Thanksgiving Day,Christmas Day,New Year and Valentine's Day.

clasp closure

Stretch Belt Strap---Patent pending. 4 pack women belts. This stretch women belt is metal/nickle free. It's soft ,comfortable and lightweight to wear.The high quality strap is flexible to adjust with great elastic,not easy to fray with heat sealed belt end.Never slide on the elastic web but not on a smooth plastic strap.

Adjustable Size---It's so convenient and easy to adjust by moving the adjustment clip like a bra strap to make it tighter or looser. Total length of belt strap: 110cm/140cm,Suits for US size 0-16/Suits for US size 0-16+.

Flat metal buckle--- The flat buckle is not like a bulky buckle, it lays flat so that it's no show when you wear a tighter-fitting top. Just put the clasp into the belt end hole and you'll get a perfect no show flat buckle belt for your pants.

Fit People---The stretch belt could be used by all your families with the adjustable strap changing from small size to plus size.Also perfect for those who are pregnant or losing weight.Fabulously for your pants and jeans as pants belt and for dresses as waist belt.

Order With No Risk---Our mission is for you to be satisfied with your women belt. All our items have 180 days after-sales service.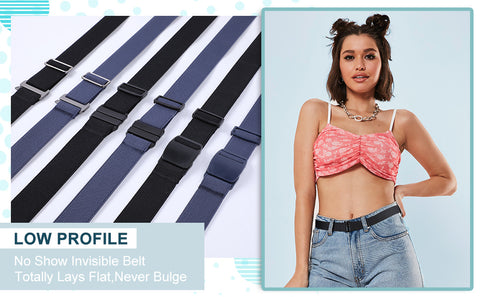 No Show Flat Buckle Belt Make Someting different for Your life.
Are you always mad with the bulky buckle that stick out? Are you tired of repeating putting on /off the heavy buckle every moment you wanna go to the washroom? Are you suffering from the marks on your stomach caused by the tight leather belt? Then we found this elastic stretch belt for you.The buckle of JASGOOD no show women belt totally lays flat and easy used, which would solve all of the problems you have.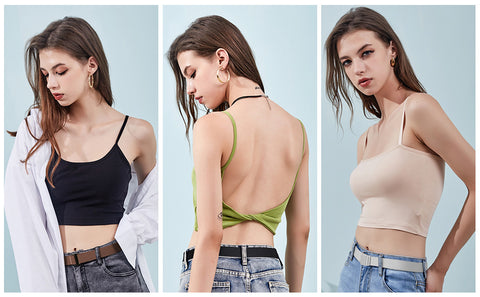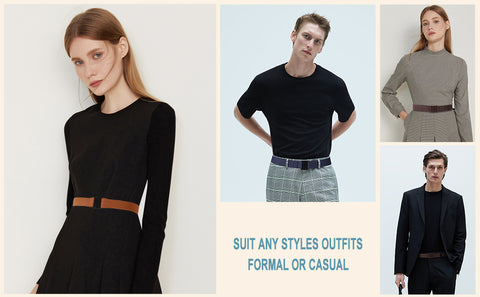 JASGOOD Flat Buckle No Show Women Belt, Simple To Use & Comfortable To Wear
Ensure that the flat buckle and the adjuster of the no show belt is at least 8cm away for the most comfortable wearing distance.

Adjusting it before you put the no show women belt on, in order to assure a correct fit and prevent any wear or damage from pulling on it.

We suggest wearing the clasp of the women stretch belt on the side if you still think it's not flat enough in the front for you.

The flat no show belt elastic web couldn't be stretched too acutely. It may get deformed after long time use due to the physical changes,but it would be recovered.

If the flat buckle clasp or the adjust clip is a bit large to get through the pants loop, please make it oblique to go through the loop.
Use Method of Flat Buckle at the following:
Unbuckle and estimate the length on you waist before put flat no show belt on.

Put one women no show streth belt end into the loop,make it oblique if the flat buckle is a bit large.

Adjust the length of the women stretch belt just like adjusting your bra strap.

Interlock both flat buckles.
 Use Method of Adjust Clip of adjusttable no show belt can be seen in the product images and instructions enclosed in your gift box.